Shipping Instructions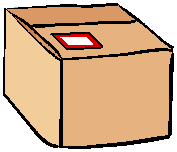 The best way to ship your collection to us is US Registered Mail. Items you send with US Registered Mail are placed under tight security from the point of mailing to the point of delivery and can be insured for up to $25,000 against loss or damage.
Simply pack your coins safely into an appropriately sized box, use plenty of cushioning and be sure the coins are not jingling together. Packages must be at least 5 inches long and 3 1/2 inches high and must be sealed with packaging tape, reinforced packing tape or paper tape. Do not use cord, string, twine or clear plastic tape. Tape must visibly damage the package if removed and must absorb the ink in a postmark impression. Address the package and do not use a label as the post office will not accept it.
Once you have your collection securely packaged and addressed take it to your local post office. Have an estimated value in your head because the postal worker will need to know how much to insure the package for. They can help you fill out the appropriate forms and supply you with the correct postage.
Be sure to include a note in your package with your name, address & phone number so we can contact you once we have evaluated your collection. Sometimes a list of what is in the box is helpful but is not always necessary. Once we receive your package we will evaluate your collection in a timely manner and contact you with our top dollar offer. If our offer is accepted we will mail you a check immediately. If you decline our offer we will return your collection to you at our expense.
If you have any other questions about shipping your collection to us please feel free to contact us at 773-586-7666.
Ship Your Collection To:
CCC
6455 W. Archer Ave.
Chicago, IL 60638-2536